Back to Guides »
Brian Prichard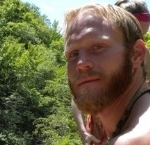 Owner, Operator,
Fishing Guide
(903) 815-1609
Email Brian
Fishing is and always has been a big part of my life in one form or another. As I have grown and changed from birth, fishing was there influencing my decisions, connecting me with nature, and teaching life's lessons. Growing up on Lake Texoma has truly been a blessed experience. Being raised on the water at my father's boatslip in Eisenhower State Park, the lake is my home. My first fishing pole was a stick with a cork tied to the end that I would slap on the water as a toddler. All I ever wanted to do was fish so that's what I did, and still do.
I started my career as a fishing guide at the age of 17, fishing during the summers and on the weekends while attending Austin College in Sherman, Tx. Upon my graduation with a bachelor's degree in business, I thought I would try my hand in the corporate world taking a job as a manager for McCoy's Building Supply in Paris, TX where I met my wife Megan. I quickly found out that long hours, salary, and politics were no match for the life I had enjoyed as a fishing guide. After about 2 years away from the lake, I returned to open Stripers Inc. in March of 2009 and haven't looked back. Owning my own business has been a wonderful blessing for me and my family allowing us the time and freedom to experience the miracles of life, for that I am greatful.
Looking back on my life it is amazing to observe growth and change to the present. During my high school and college days I was as wild as they come; I lived for the party and had little concern for anything else. I had great friends and we had lots of fun with no regrets. But as I got older, the excitement started to fade, it wasn't enough anymore, there was a hole which I could not seem to fill no matter what I tried. Then I discovered mediation through a college class I was taking on Asian medicine and religion. A seed was planted and slowly it began to grow inside, transforming me. Little by little my awareness began to shift from a human perspective to a spiritual one. I began to awaken to see that I was not a body who had a soul but a soul who had a body. More and more I chose to see from this perspective and the faster I transformed. My desire for many things faded away, not from judgment against my old ways but the desire is no longer there. Becoming a father with the addition of my son Aidan has opened my heart to a love which I never thought possible, extending beyond my family to include all beings of creation. My views about wealth have also changed and now I am reflecting those views in my business by adopting the gift economy. I have surrendered into love and love has transformed me, now it is transforming the world. Life is an adventure, and I'm here to share it with you. I'll be looking forward to meeting all of you on the water.
Brian
Add me on Face Book at http://www.facebook.com/bprichard2